ROGERS PARK – In a neighborhood in the far north, a new type of garden and small library has opened – one featuring Star Wars figurines.
"The Galaxy's Hedge" action figure library and garden debuted Friday next to Howard Beach Park at the corner of Howard Street and Eastlake Terrace.
The exhibit and library were set up by Rogers Park resident Orion Couling, who used his own childhood Star Wars toys as well as donations to turn part of the greenway into an action figure garden. Children are free to play with the toys – mostly miniature figures of Star Wars characters – and to borrow them or take one home.
Couling decided to publicly display the toys in order to continue his mission to help children even after his nonprofit closed.
Couling's nonprofit, Edge of Orion, taught acting and gymnastics to children and adults with disabilities, but it recently closed due to a lack of funds. Without his preferred method of giving back to the community, Couling thought about his next project when he remembered that a former client's parents had given him a large collection of Star Wars toys.
"A lot of that sat in my closet for years," Couling said. "I said, 'While I'm dealing with this chapter, I'm going to create a guerrilla garden with toys right next to the park. ""
The action figure garden already seems to be a success.
When Couling checked the site on Monday, he saw that the Han Solo and Princess Leia characters appeared to be buried, as they were surrounded by Storm Troopers and other Star Wars characters in what looked like a form of funeral.
Several children approached and asked questions. Couling enthusiastically narrated the characters' backstory and encouraged the children to take home a toy.
"Is this one available?" a girl asked, pointing to robot companion R2-D2.
"Take what you want," Couling said.
"People played with it, that's the whole point," he said. "It's very cool to see."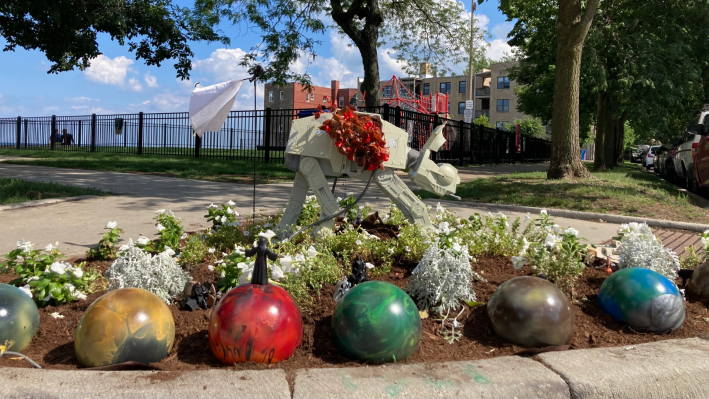 The Library and Action Figure Garden is in a strip of public grass next to the Howard Beach Park Playground.
Couling and a friend placed a weed mat over the existing grass and laid mulch on top. Bowling balls collected from neighbors have been painted to look like planets from the Star Wars universe, including Tatooine and Alderaan. Bowling balls are locked in place.
The couple then planted flowers and decorated the garden with toys and figurines, including a large all-terrain armored transporter, the walking military vehicles featured in 'The Empire Strikes Back'.
The scene is completed with a Star Wars spaceship and beloved characters from the franchise, including Darth Vader, Darth Maul and Chewbacca.
Some of the toys belong to Couling, while others, including the large armored transporter, are donations. Some are even from the first series of Star Wars toys in the early 80s, he said.
Receiving the donations reminded Couling of the joy these toys gave him in his youth. He decided it was time to spread that joy with others.
"As a country, we face so much darkness," Couling said. "If we could create a little levity, a little positivity. … People forget the power of stupidity.
Figures that neighborhood kids bring home will be replaced with Couling's collection. Donations have already poured in since the garden opened on Friday, including from local historian and tour guide Adam Selzer, who did a live segment with Couling on Monday. Neighbors can leave figurines in the garden or contact Couling on social media to donate items.
The library and garden of action figures will be operational until November. It will come down for the winter – when Couling spends his time in New Orleans – and will be displayed again next summer.
That's if the city allows him to stay.
The garden is on city property next to a public park. Couling hopes Rogers Park's history of "guerrilla gardening" on street corners will allow the city to look favorably on its creation.
If not, the library will have achieved its goal by spreading joy and toys to neighbors and children.
"It was nice to see people being really positive," Couling said. "Can we make people smile and give some kids Star Wars toys? It looks like we've made it. »
Listen to "It's Alright: A Block Club Chicago Podcast":